Eczema Lotion
Product description:Steroid-Free Eczema Treatment.
This fragrance-free, nontoxic eczema treatment is tailored for the most sensitive skin and works for the whole family. A petrolatum-free, steroid-free blend of plant-derived ingredients gently soothes eczema flare-ups, relieving irritation and keeping dry, itchy skin calm, smooth, and deeply moisturized.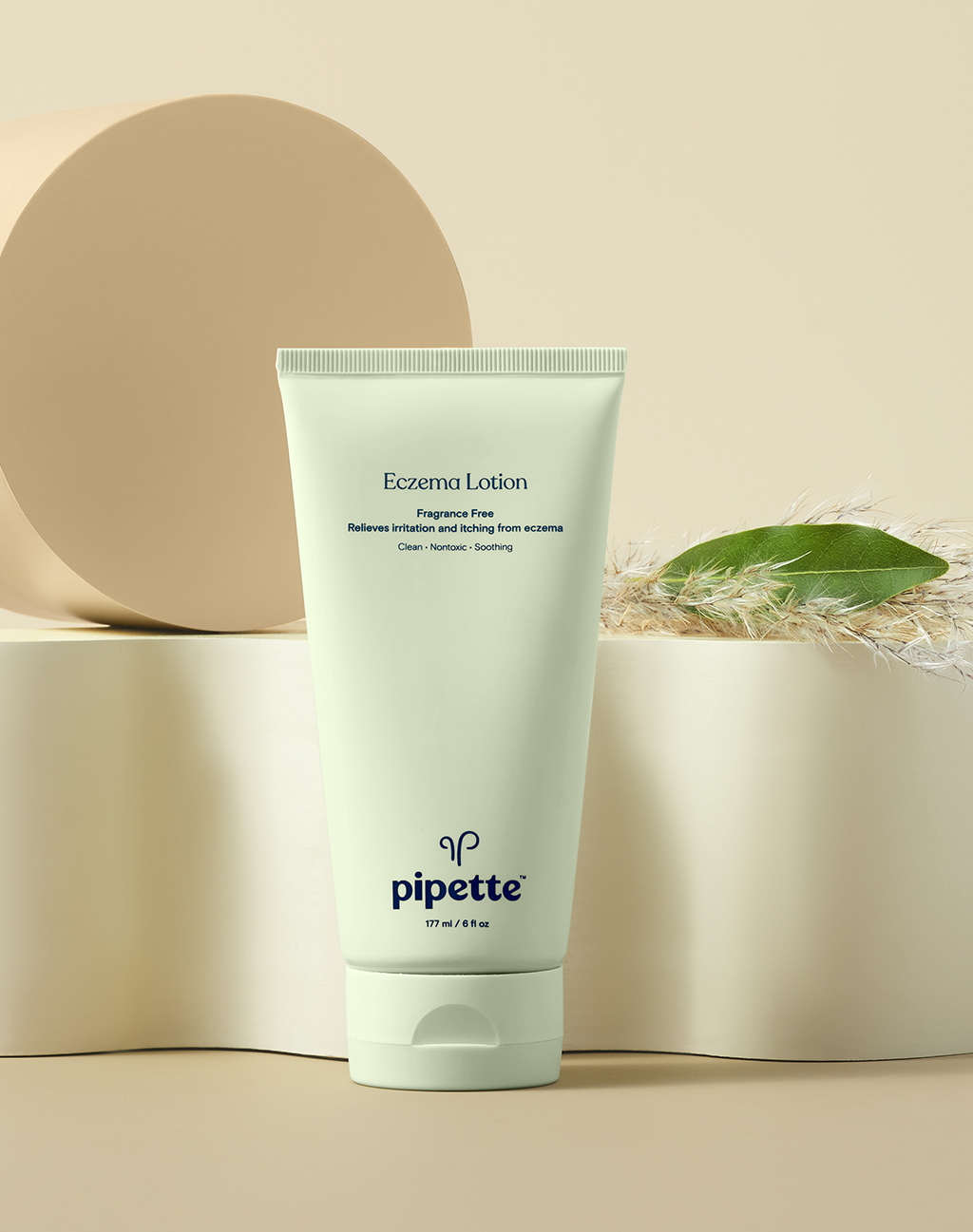 Clean ingredients you can trust
Eczema Lotion soothes irritation and itching
Legendary inflammation fighter colloidal oatmeal (derived from—you guessed it—oats) helps soothe itchy eczema flare-ups, replenishing the skin's lipid barrier and sealing in much-needed hydration.
Eczema Lotion locks in moisture and comforts dry skin
Ceramides are moisture protectors that our skin naturally creates. Our clean ceramides and jojoba esters help defend against moisture loss to comfort sensitive, dry skin.
Replenishes what they're born with
Our renewable, sugarcane-derived squalane is a moisturizing superhero that helps nourish and restore skin. Clinically proven to help balance the microbiome, which helps support the moisture barrier for more resilient, healthy-looking skin.
Active Ingredient:
Colloidal Oatmeal 1%: Inflammation fighter derived from oats helps soothe itchy eczema flare-ups and seal in moisture.

Inactive Ingredients:
Water/Aqua/Eau: Pure, simple product base.
Squalane: 100% sugarcane-derived sustainable ingredient clinically proven to help balance the microbiome, which helps support the moisture barrier for more resilient, healthy-looking skin.
Caprylic/Capric Triglyceride: Skin-replenishing emollient derived from coconut oil.
Glycerin: Plant-derived moisture attractor.
Hydrogenated Sunflower Seed Oil Polyglyceryl-3 Esters: Sunflower-derived emulsifiers.
Hydroxystearic/Linolenic/Oleic Polyglycerides: Natural, plant-derived mix of polyglycerides rich in fatty acids that help provide gentle moisture.
Butyrospermum Parkii (Shea) Butter: Antioxidant-rich, plant-derived moisturizer.
Jojoba Esters: Hydrating, plant-derived skin softeners.
Ceramide NP: Helps form an effective barrier against moisture loss and comforts sensitive and dry skin.
Tocopherol (Vitamin E): Antioxidant vitamin that helps improve skin suppleness.
Sodium Phytate: Plant-derived stabilizer.
Hydrogenated Sunflower Seed Oil Glyceryl Esters: Sunflower-derived emulsifiers.
Cetearyl Alcohol: Gentle plant-derived emollient.
Propanediol: Plant-derived ingredient that helps retain moisture.
Hydroxyacetophenone: Antioxidant that boosts preservative effectiveness.
Sodium Stearoyl Lactylate: Food grade emulsifier.
Xanthan Gum: Plant-derived thickening agent.
Ethylhexylglycerin: Emollient that helps boost preservative effectiveness.
Potassium Sorbate: Food grade preservative.
Citric Acid: pH adjustor that ensures perfect pH balance with babies' skin.
Learn more about our ingredients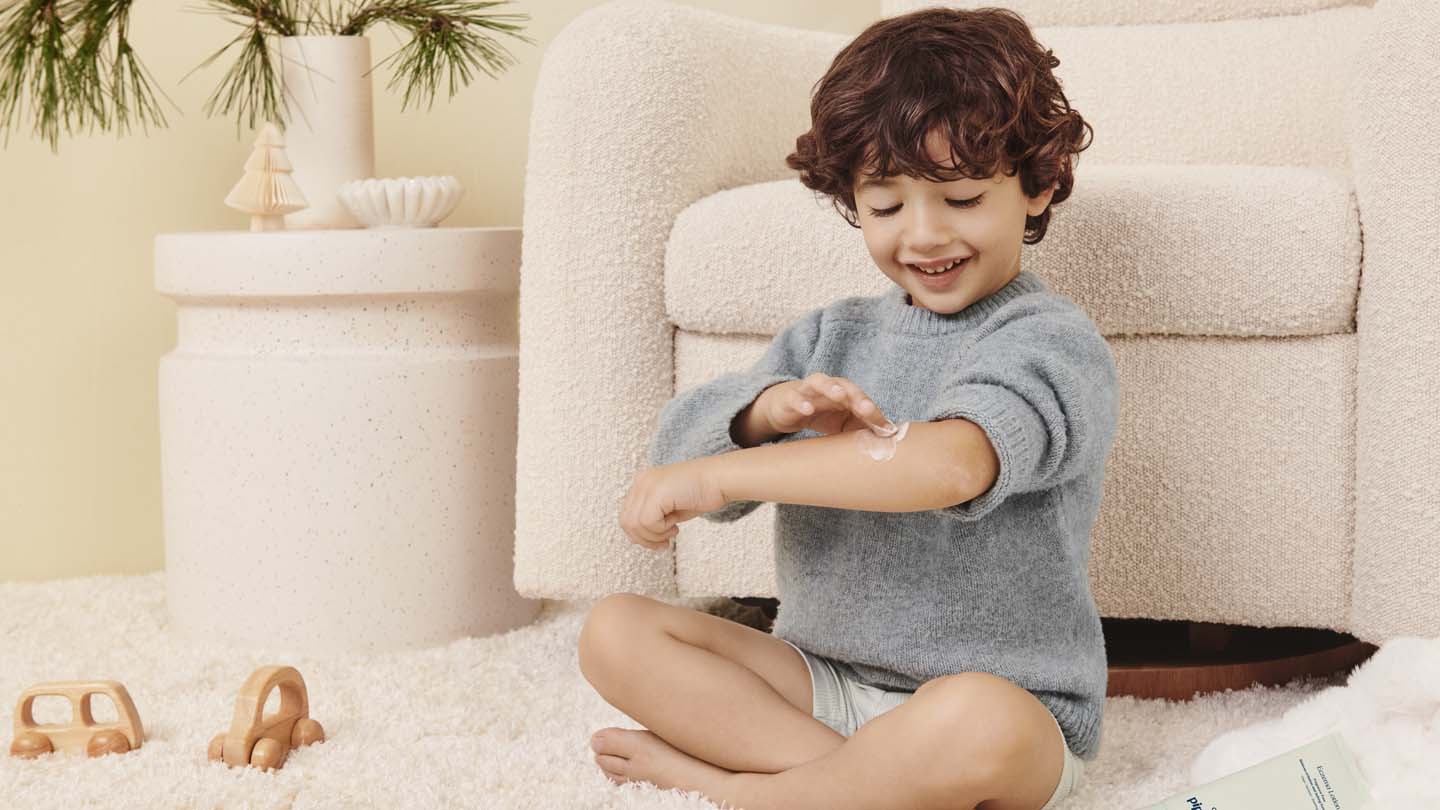 Soft on skin, strict on standards
All Pipette products are created with the support of biologists, dermatologists, and pediatricians, and are rigorously tested to ensure their safety. All formulas are hypoallergenic, free of synthetic fragrances, cruelty-free, and vegan. Gentle enough for even the most sensitive skin, our supremely soothing baby Eczema Lotion can be used every day, or any time flare ups feel itchy and irritated.
How to use
Gently massage Eczema Lotion in. Apply whenever needed from head to toe.
Check out our "Why every eczema product should have NEA seal" blog article
Dermatologist Tested

Pediatrician Backed
Eczema Lotion Clinical Results
97% said baby Eczema Lotion helped relieve baby's itchy and irritated skin.*

100% said Eczema Lotion helped smooth dry patches on baby.*



100% said this product left baby's skin feeling soft and smooth.*
100% said this product was gentle yet effective on baby's skin.*
97% said baby's skin felt hydrated long after applying the lotion.*
97% said baby's skin felt more nourished.*
100% said they would use this on their baby again*
*Based on a 14-day consumer use study of 32 children, ages 6 months – 3 years, after 14 days of use.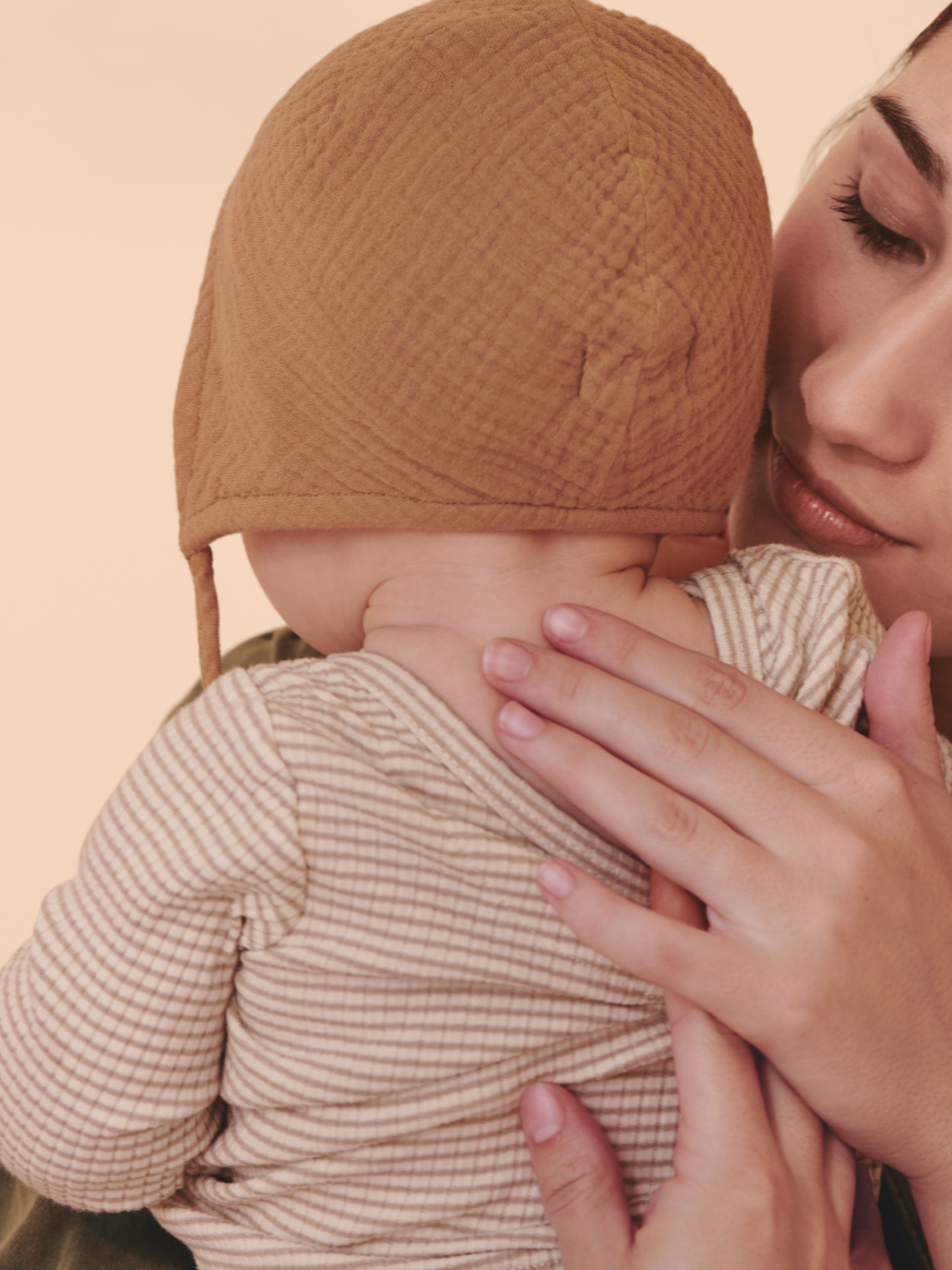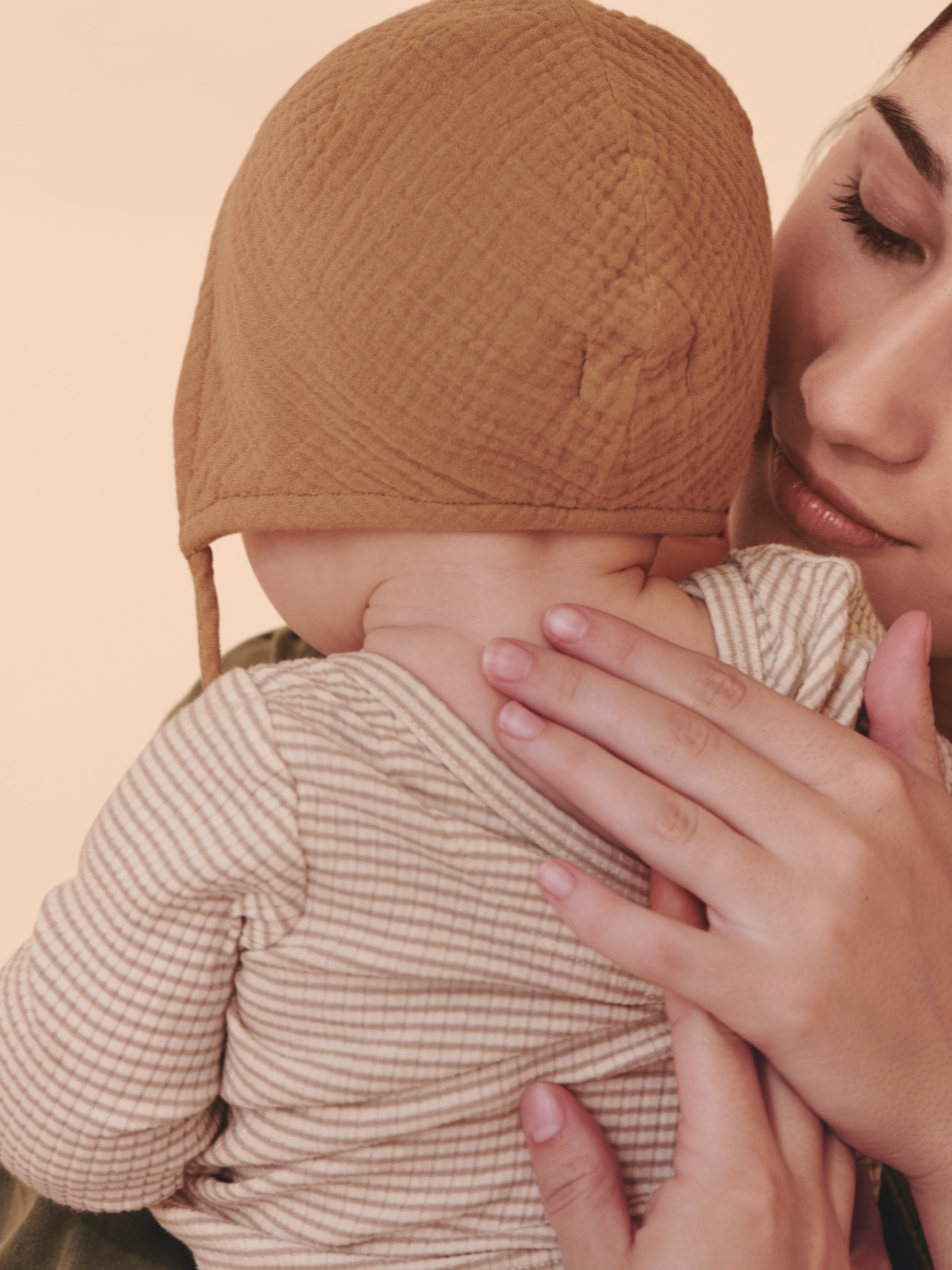 Answers to all your eczema Qs
Pediatric dermatologist Peter Lio, MD, addresses how to tackle one of the most common—and least understood—skin conditions for babies, children, and adults.
Read More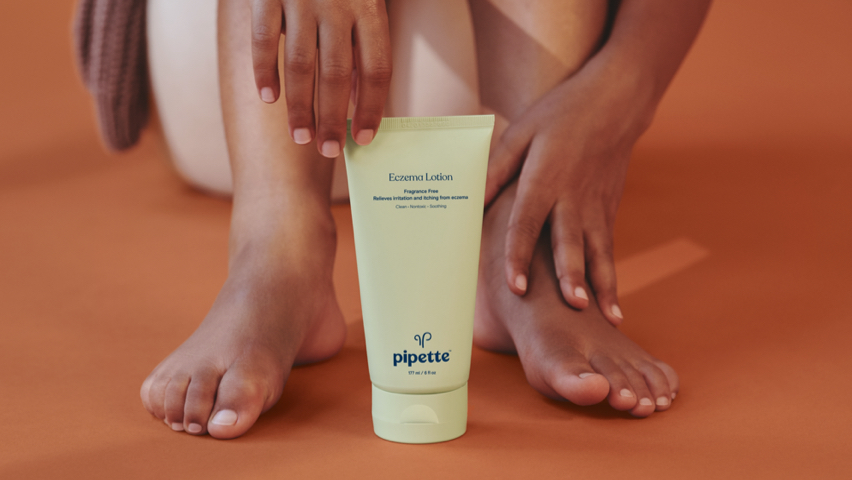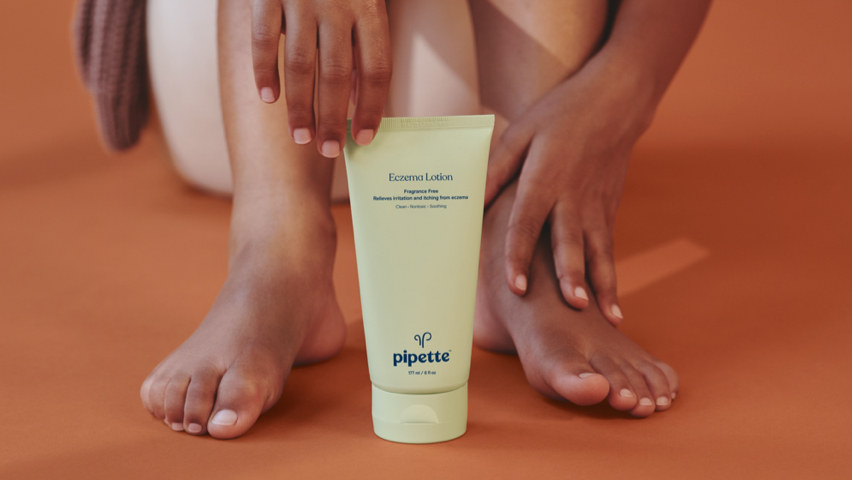 We love the 'gram!
Follow us @pipettebaby